The Mighty Mississippi
Communities up and down the river
use the Mississippi to obtain fresh drinking water and to discharge their industrial and municipal waste waters. We do not have accurate figures on water use for the entire Mississippi River Basin, but do have some clues.
A January 2000 study published by the Upper Mississippi River Conservation Committee states that close to 15 million people rely on the Mississippi River, or its tributaries, in the upper half of the river basin (from St. Cloud, Minnesota to Cairo, Illinois). Another frequently cited figure of 18 million people using the Mississippi River watershed for drinking water supply comes from a 1980's study by the Upper Mississippi River Basin Committee. The US Environmental Protection Agency simply says that more than 50 communities rely on the Mississippi for daily drinking water supplies.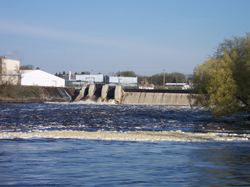 Mississippi River at Little Falls, Minnesota
More Mississippi River photos >>