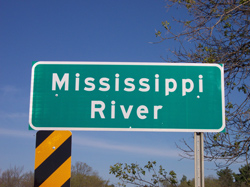 The cities of St. Cloud, St. Paul, and Minneapolis each relies exclusively or primarily on the Mississippi River as its source water supply. In accord with the 1996 Amendments to the Federal Safe Drinking Water Act, the Minnesota Department of Health prepared Source Water Assessments for these three public water suppliers. The Safe Drinking Water Act does not require the preparation of Source Water Protection Plans; the three cities have prepared, and are now implementing, their respective Source Water Protection Plans voluntarily through the UMRSWPP. Plan implementation is centered on the development of objectives and strategies at the watershed level that will advance the goals of source water protection. Source water protection will be based primarily on watershed management, land use planning, and point and non-point pollution control.
In addition to the three public water suppliers, other cooperators in the UMRSWPP include the MN Pollution Control Agency (the primary source of project funding), the MN Department of Health, the Minnesota Rural Water Association, and the Metropolitan Council.
A brief "Project Summary Document" describes the current status of the UMRSWPP and a brief description of project activities.
The Mississippi River upstream of the Twin Cities is heavily influenced by point and non-point pollution threats, many of which are not currently well-understood. The Mississippi River and several of its tributaries within the project area are listed by the Minnesota Pollution Control Agency as impaired. Source water protection will focus prominently on improving and protecting water quality at the watershed level. Both point and non-point contaminant sources are being addressed by water suppliers' source water protection plans.
This area contains many communities that rely on ground water for their public water supply. The UMRSWPP provides a framework to coordinate the drinking water protection efforts of surface water and ground water-based public water suppliers within the approximately 7,700 square mile project area.

©2010 Upper Mississippi River Source Water Protection Project - All Rights Reserved